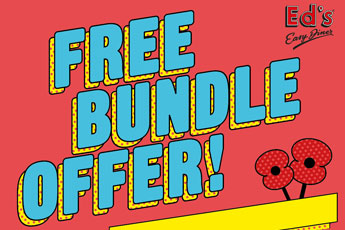 Ed's Diner want to show their appreciation to UK Veterans & Armed Forces Community by offering a free meal this Remembrance Sunday
Restaurant to offer free meals to UK War servicemen and women as part of Remembrance Sunday drive.
To celebrate this year's Remembrance Sunday on the 12th November, Ed's Diner will be dishing out free servings of their mouthwatering menu to all members of the UK Armed Forces, Veterans & Armed Forces Community. Ed's are always looking at ways to give back to local communities and on Remembrance Sunday would like to commemorate the efforts of men and women who gave their service.
In order to claim their free meal troops must present their Defence Privilege Card or MOD90 ID Card to one of the team when dining at Ed's. They'll be entitled to either the Thanksgiving Turkey Burger, The Original, Fried Chicken or Halloumi & Roasted Peppers Burger, all of which come with fries and bottomless soda.
Sam Wignell, Brand Director at Ed's Diner said,
"We have a huge admiration for the men and women that have risked their lives for our country and this is just a small token of gratitude from the team at Ed's to show their appreciation to all army affiliates. We can't wait to open our doors on Remembrance Sunday and feed our troops!"