Defence Discount Service
Home of Armed Forces Discounts
Defence Discount Service is the official Ministry of Defence discount service for the UK's Armed Forces, Defence Community and Veterans. It provides discounts online and on the high street, both with national and local independent retailers.
If you are in the Armed Forces then Defence Discount Service is the website to get your Forces discounts. Defence Discount Service can be used to get online discounts with retailers on everything from holidays, days out, phones, food and more. In addition to this you can get Armed Forces discounts in store using your MOD90, which Defence Discount Service as stores to accept. If you log in to the website and look under the high street section, you can view which retailers offer an Armed Forces discount using your MOD90.
Who is eligible?
If you are a current serving member of the Armed Forces or Reserve Forces then you are eligible to sign up for the service. In addition to this your spouse/partner can sign up for their own account so that they can save when you are not there. The Defence Privilege Card, the vetted DDS discount card, can be used by them to save in stores, restaurants and venues to allow them to get high street Armed Forces discounts.
This offer is open to the whole Defence Discount Service member base and is therefore open to Veterans, spouses/partners of Serving Personnel and other members of Defence Discount Service.
I used to be in the Armed Forces - can I get a discount?
Yes HM Armed Forces Veterans are eligible for our Armed Forces discount service. In addition to this Defence Discount Service is the home of the Defence Privilege Card - the vetted Veterans discount card.
How do I register?
Click the register now button below and fill out the information. Once you have filled that out you will receive a verification email in which you will need to click the link to confirm your email address. You will then be verified by our staff and can access the website. You will need to provide service specific information in order to sign up for this service.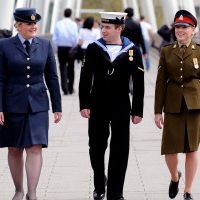 Defence Discount Service - official Ministry of Defence Armed Forces discount service. Register for free.
Sign up now for free