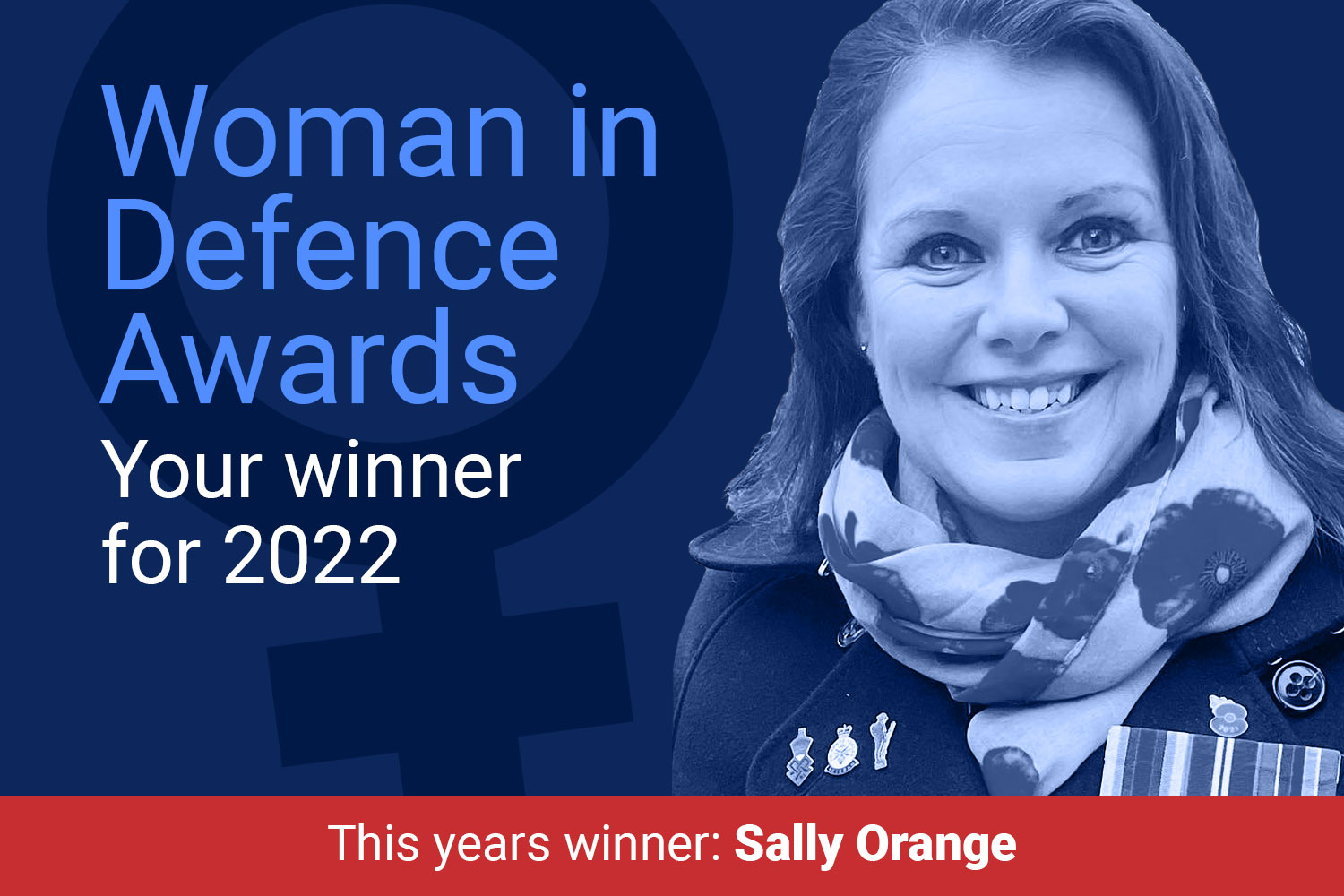 Inspirational Woman in Defence 2022
To mark International Women's Day, Defence Discount Service has crowned the well-deserved winner of its Inspirational Women in Defence campaign, which celebrates the achievements and dedication of women working within the defence community.
Now in its second year, the competition called for nominations for women working within the armed forces, reserves, cadet forces, as well as MoD civil servants and NATO personnel in the UK.
Taking home the crown as the Defence Discount Service Inspirational Woman of the Year 2022, is retired Army Major and physiotherapist, Sally Orange. Sally was nominated for her extensive charity work and her commitment to championing the importance of mental wellness both in her retirement, and during her 22 years of service. Over a 30-year period, she has volunteered and fundraised for over 40 different charities, mainly of a military nature, raising over half a million pounds in donations.
Despite battling with her own mental health illness, the 47-year-old has made it her life's work to help others and is passionate about changing the conversation on mental ill health through speaking candidly about her own experiences, and the benefits participating in sport and physical challenges has had on her ongoing recovery.
Not content with running a marathon on every continent (while dressed as different pieces of fruit!), and 70 marathons in total, Sally has completed some of the world's toughest endurance events, including cycling the length of New Zealand and the infamous Marathon des Sables, known as the toughest foot race on earth.
She was also part of an all-female team to complete the extreme Arch to Arc triathlon, consisting of running from Marble Arch to Dover, swimming the English Channel and then cycling from Calais to the Arc de Triomphe, in a bid to prove what women are capable of when they work together and support each other.
In 2019, Sally went on to found and captain the first all-female team of wounded, injured and sick veterans, who made history when they cycled 3070 miles, in the Race Across America. They crossed 12 states and three mountain ranges, from the west to the east coast, in just eight days and 12 minutes, whilst raising funds and awareness for 'Women in Sport'.
In 2020 she ran the length of Iceland in just ten days for 'The Bowra Foundation', a charity founded by her Invictus Games teammate, Mark Bowra, who suffered a catastrophic stroke at the age of 40.
As well as helping service personnel and veterans, Sally is also the first and only female Army Cadets UK National ambassador. In this voluntary role, she's passionate about championing and empowering young people to achieve greater self-belief through both participation and engagement in different events.
At the beginning of the Covid-19 pandemic, Sally returned to the frontline, having been medically retired just months before. Over the course of several months, she dedicated her time to caring for seriously unwell patients at the NHS Nightingale Hospital in Stratford. While there, Sally raised over £3500 for NHS Charities Together and SSAFA – the Armed Forces charity, running 100 laps, covering a distance of 100 miles around the hospital site, in scrubs and a facemask. She continues to support the NHS with its national vaccination and booster programmes.
Further accomplishments include her work in Afghanistan treating severely wounded personnel, and her four medal wins at the Invictus Games as well as holding six Guinness World Records.
Commenting on this year's campaign and Sally's win, Tom Dalby, CEO of Defence Discount Service, said:
"Sally's exceptional story really struck a chord with the whole team here at Defence Discount Service. Her passion, dedication and exceptional charity work is exactly what this campaign is all about. Not only is Sally making a huge difference to the lives of her colleagues past and present, as well as all those who meet her in person, her selfless charity work has already helped thousands of people across the defence and military community. And she shows no signs of stopping any time soon. She really is a true inspiration to us all and we couldn't think of a more deserving winner.
"It has been a true pleasure to read the many incredible and varied stories of all the servicewomen who were nominated this year. There are so many inspirational women who are doing fantastic work within the defence community that choosing just one winner was certainly no mean feat. A massive congratulations to Major (Retd) Sally Orange for being our Inspirational Woman of the Year 2022 and a big thank you to her for her selflessness, and commitment to improving the lives of others."
Commenting on her win, Sally Orange said:
"I couldn't believe it when I found out! I know of so many incredible women doing wonderful things in the defence arena, and so am extremely honoured to have been recognised in this way, particularly on International Women's Day.
"Having fought with my own mental illness in silence for so many years, I hate to think of others having to do the same, be that a young cadet, adult volunteer, private soldier or senior officer, as one thing for sure is that mental illness does not discriminate.
"By taking on physical challenges, often dressed as brightly coloured different pieces of fruit, I find that people smile and ask why? When I tell them I am passionate about breaking down then stigma associated with mental illness, they often open up and talk about how either they or someone they know has or is struggling with their mental health. It subtly starts a conversation, while proving you don't have to be the fastest or the fittest to gain a sense of achievement in a positive environment. I am so thankful to Defence Discount Service for this award."