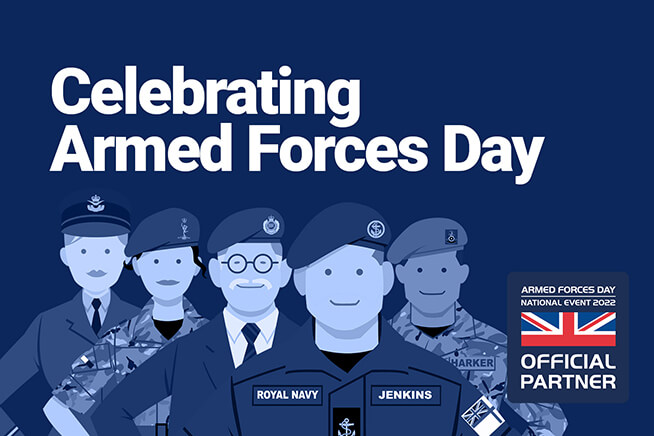 We stepped up to show our support!
Showing support for our Armed Forces community – whether they're currently serving troops, veterans, service families or cadets – is a huge part of why we do what we do. That's why you will have seen us joining the celebrations and shouting about all the amazing offers you're entitled to at the UK's Armed Forces Day National Event in Scarborough.
Including a fantastic parade, multiple musical performances, flypasts and so much more; Sammi, Nicola and Laura manned our stand to chat with passers-by, offer advice and top tips, and support you with answers to sign up queries.
You also may have spotted Manisha and Sarah as they wandered the streets getting to know you and our partners while out and about!
"We love being able to attend events like these," said Manisha, "Having the chance to meet members, hear their stories and share some of our fantastic savings with armed forces families is always fantastic, and it's even better to be able to do so on a day that's all about showing support to the armed forces community!"
Not yet a member?
Don't miss out on making your money go further with thousands of fantastic savings on everything from home and garden offers, to holidays, fashion and more – only with Defence Discount Service, the official MoD discount service for the Armed Forces, Veterans and Armed Forces community.
Sign up today or – if you are a member – log in to start saving!
Give us your best shot… it's competition time!
Did you take a trip to the seaside for the day to celebrate with us? Or take part in Armed Forces Day events closer to home?
Add your favourite Armed Forces Day photo to this post on our Facebook page for your chance to win one of five £100 Amazon gift vouchers! Please note, you must be a member and it must be your own photo (Don't think you can just pinch a mate's pic for clout!). T&Cs apply.